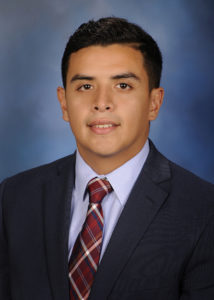 State Representative Aarón M. Ortíz, was born and raised in Gage Park, Chicago, and serves the people of the 1st Legislative District of Illinois. He was sworn into the Illinois General Assembly on January 9, 2019, and transitioned into office after a successful challenge in 2018. In 2020 he successfully won his second term obtaining 58% of the vote in the primary..
The 1st District spans across many neighborhoods on the southwest side of Chicago, ranging from Gage Park, Brighton Park, and Chicago Lawn to Garfield Ridge and Archer Heights. The 1st District is the 2nd most immigrant district in the State of Illinois.
Prior to his election to the General Assembly, Rep. Ortíz served as an educator, college counselor, soccer coach, and member of the Local School Council at Back of the Yards College Prep High School.
Rep. Ortíz has been an outspoken advocate for education in Illinois and increase opportunities for young people by fully funding our neighborhood schools and early childhood facilities. Rep. Ortiz's record throughout his public service has resonated a strong progressive record, promoting social justice and economic justice.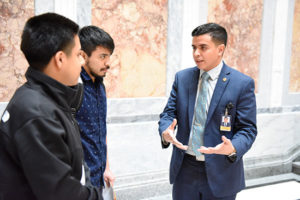 Rep. Ortíz currently serves on the Appropriations-Higher Education Committee, the Appropriations-Public Safety Committee, the Cybersecurity, Data Analytics, & IT committee, and the Veteran's Affairs Committee.
Rep. Ortíz also serves on the Governor's Early Childhood Funding Commission and is a member of the House Firearm Public Awareness Task Force. He also serves on the Joint Advisory Council of the Illinois Board of Higher Education and the Illinois Community College Board.
Recognizing the need for serious reform, Rep. Ortíz has fought to promote ethical government practices and increase transparency in Illinois. Rep. Ortíz understands the benefits of strong and safe communities and has been a champion for the rights of immigrant families.
Rep. Ortíz, a first-generation Mexican-American graduated from Brother Rice High School and Nightingale Elementary in Chicago. He was the first in his family to attend college and earned a B.A. in Urban Planning from the University of Illinois at Urbana-Champaign. In 2018, he was selected as an Edgar Fellow, a program run by former Governor Jim Edgar, which highlights future Illinois leaders. In 2019, Rep. Ortíz was recognized in the Negocios Now Magazine as a 40 Leaders Under 40 award winner. A lifelong soccer player, Ortíz still regularly competes and coaches on a volunteer basis.